Friday, October 11, 2013
Zero Hedge
In what world is it rational to decide that dumping 800,000 ounces of notional gold into the London Fix (or COMEX open) makes sense? In the space of 4 minutes, almost 2 million ounces notional were flushed into the gold futures markets dumping the price of gold to 3-month lows. This is the 4th down-day in a row and yet another "spike" around the open/close that regulators remains ignorant of.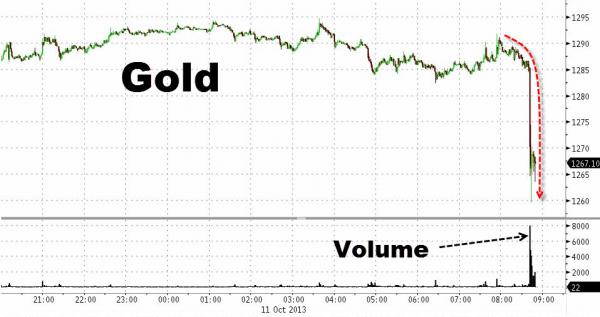 [Note: Most investors, when they sell, attempt to get the highest price possible. Such is not the case when it comes to gold (and silver). Over the past 10-12 years, huge quantities of the metals have been dumped in what can only be efforts to manipulate prices lower, action that is not unprecedented.
[In the late 1960s, the London Gold Pool was formed by eight Western central banks in an effort to keep the price of gold from rising. Although the Pool officially lasted for eight years, it collapsed as other central banks turned in paper dollars for hard assets, draining the gold allocated to the Pool.
[In the 1970s, the US Treasury and the International Monetary Fund made another effort at suppressing the price of gold, driving it from the $200 level to just about $100. However, that effort also failed, and by 1980 gold had hit $850 (and silver $50).
[Undoubtedly, the Treasury and the Fed have passed the wand to the bullion banks that now act as proxies in keeping the price of gold from rising and calling attention to the problems with the dollar (and other fiat currencies). This effort will fail also. It's just a matter of time.]